Like sands through the hour glass, so are the days of our lives. How true this is for Barnegat township. At a recent public meeting an angry township resident was escorted out for his own safety (so I'm told). This type of behavior is not typical, but with all the change taking place not surprising.
The township longtime Republican committee was defeated at the last election, and soon to be run by the Democratic party. Len Morano, the incoming Mayor, has made his share of waves already and hasn't taken office yet.
As a township resident myself, I see we now have recycleable pick-up every week, (it's on the calendar) not every other. How did this happen? I'm not sure I voted on this, or was even informed. Don't we need more trucks and personnel to handle this? I wonder if this is what caused the outburst at the last meeting?
One thing I know is we have been agruing about garbage in this town for many years, and this won't be the last. I'm angry we had to get rid of the robo cans and then sell them at some discounted rate to another town to use after storing them in a field for years. I'm all for saving money, but also think somethings are worth having and that was one.
With the new government soon to be in charge, I hope this year is a good one. Superstorm Sandy and the effects she left will need to be dealt with. We need to handle the garbage issue and other important issues. Being Mayor cannot be easy, so I hope we have elected a good communicator, with excellent leadership skills who's mild manored and experienced because he/she takes office in 2 days.
Meeting ajourned! Look for next months minutes of the meeting.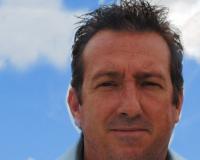 I grew up in Broward County, Florida close to Ft. Lauderdale Beach. Toward the end of my senior year of High School my family moved to Barnegat, New Jersey where I met my wife Maryellen. We have 5 kid....