Christmas Tree Cookie Recipe Fun For ALL
Enjoy Some Holiday Fun with Family Baking these Easy Fun Christmas Tree Cookies.

Ingredients:
1 1/2 cups confectioners' sugar 1 cup butter, softened 1 egg 1 teaspoon vanilla extract 1/2 teaspoon almond extract 2 1/2 cups all-purpose flour 1 teaspoon baking soda 1 teaspoon cream of tartar
Directions:
1. Mix confectioners' sugar, butter or margarine, egg, vanilla, and almond extract. Stir in flour, baking soda, and cream of tartar. Cover and refrigerate for 2 hours. 2. Heat oven to 375 degrees F (190 degrees C). Divide dough into halves. On lightly floured cloth-covered board, roll each half out to 3/16 inch thick. on lightly floured cloth-covered board. Cut into Christmas shapes. 3. Bake on parchment lined baking sheets for 7 to 8 minutes. Let cool on wire racks and decorate as desired.
Recipe courtesy of allrecipes.com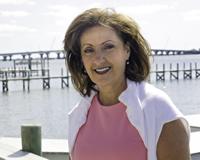 I grew up in Bergen County, New Jersey across the Hudson River from New York City. My husband, Dennis, and I raised our two children there. As soon as the kids were finished with school, Dennis and I ....