Chris Christie Visiting Brant Beach
Governor Chris Christie will travel to Brant Beach on Long Beach Island Thursday (July 26th) to continue the Endless Summer Tax Relief tour along the Jersey Shore.
He is scheduled to meet with officials and residents at 3 p.m. at the Bayview Park pavilion at 68th Street in the Brant Beach section of Long Beach Township.
According to his press release, "Governor Christie will continue to call for Corzine Democrats to stop holding tax relief hostage and urge the legislature to continue the New Jersey Comeback and provide bipartisan leadership by delivering tax relief to citizens, making the state more competitive and putting more New Jerseyans back to work."
During last Friday's township council meeting, Mayor Joe Mancini said the governor would also be discussing the Barnegat Bay initiative.
He also said he was assured Christie would be taking some questions from the public and suggested anyone who would like to ask anything of the governor to attend.
Courtesy of barnegat-Manahawkin.patch.com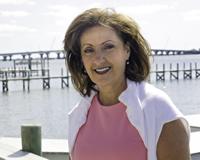 I grew up in Bergen County, New Jersey across the Hudson River from New York City. My husband, Dennis, and I raised our two children there. As soon as the kids were finished with school, Dennis and I ....