Celebrate Valentines Day With The Family At Jenkinsons
POINT PLEASANT BEACH, NJ - Looking for something to do with the whole family to celebrate Valentine's Day?


Then bring everybody to Jenkinson's for some fun on Friday, Feb. 9 or Sat. Feb. 10 from 6 p.m. to 9 p.m. The package for a family of four includes admission to Jenkinson's Aquarium, a plain pizza, a pitcher of soda at the pavilion; a $10 PlayCard for the Pavilion Arcade and four treats from the Sweet Shop, all for $54.95.

Tickets can be purchased at the following locations: the Aquarium, the Sweet Shop, the Pavilion and the Pavilion Arcade. You can buy another ticket for an additional family member for $10 for admission to the Aquarium and a treat from the Sweet Shop.
article courtesy of ThePatch.com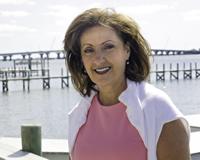 I grew up in Bergen County, New Jersey across the Hudson River from New York City. My husband, Dennis, and I raised our two children there. As soon as the kids were finished with school, Dennis and I ....