Barnegat Fire Department Car Show 2014
Barnegat Fire Department had a great turn out at their 2nd annual Classic Car Show November 15th. 2014. There were plenty of cool cars & trucks, with lots of trophies and awards. Music all day, Hot Rods in and out, and there's nothing more pleasing then the sound of a well-built, high horse power, large cam hot rod thumping through the parking lot. The smell of high octane was present all day. Funny thing happened; if you haven't heard, I purchased a 1973 Ford Maverick earlier this year. ( I know, go ahead and ask; why a Maverick?) It looks awesome and runs great! That's pretty much the reason. Well anyway, that Maverick was one of only two unpainted, cars out of approximately 75, and which WON 2nd place for best Rat Rod in the 70's division....not too shabby I say. My love for cars has been since junior year in high school-cars are my thing. But the real winner was our Fire and EMS departments who this car show benefit was for. Thank you to both departments for their hard work during all our emergency's.
For all you hot rodders-if you need a home or workshop and want help locating one, go to
http://rsaparitojr.vandykrealestate.com
and contact me.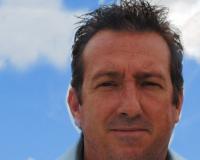 I grew up in Broward County, Florida close to Ft. Lauderdale Beach. Toward the end of my senior year of High School my family moved to Barnegat, New Jersey where I met my wife Maryellen. We have 5 kid....