American Pickers Filming At Local Antiques Restoration Shop
American Pickers, a popular antique-scavenging TV show visited Barnegat yesterday, causing excitement by the Bay Avenue antiques restoration business, where people dropped in to peek at the host Mike Wolfe.
Mike Wolfe wasn't "picking" during this visit, the way he does when he makes his stops at people's residencies all across America, where he looks for vintage items of all kinds and bargains with the owners for TV watchers' viewing pleasure. This taped visit was a part of a different sort of project.
Mike has a storyline that includes Jon Szalay, owner of First National Antique Restoration on 708 West Bay Avenue, an antiques restoration business. Mike and Szalay have been friends for many years and say's Mike used to sleep on my couch right in this building.
Szalay is a restoration specialist, and works on appoinment only. If you are looking to restore antique furniture, I suggest calling Jon Szalay at 609-698-1413 for an appoinment, who knows maybe you will see Mike Wolfe there!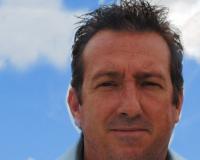 I grew up in Broward County, Florida close to Ft. Lauderdale Beach. Toward the end of my senior year of High School my family moved to Barnegat, New Jersey where I met my wife Maryellen. We have 5 kid....