2014 Atlantic City Collector Car Show
Friday Feb 28th - Sunday Mar 2nd 2014 Location: Atlantic City Convention Center - 1 Convention Boulevard, Atlantic City New Jersey
This is the 40th anniversary of this great indoor collector car show & auction. The show is 3 full days of fun and excitement. With over 250 vendors of collector car memorabilia, parts and accessories there's something for the enthusiast. I'm sure there will be 55, 56 & 57 Chevy's. They'll be plenty 65, 66 and 67 Mustang's, Nova's, Chevelle's and one the hottest vehicles right now late 70's style Camaro.

I spoke to the Finance person at Vanguard Motor Sales of Plymouth Township, Michigan for a purchase of mine. He told me he has financed many late model 70's Camaro's recently. Whatever you dream about owning will most likely be there, either on display, or for sale. Come on out and get excited about the car shows in New Jersey this year! Hope to see you there!
Show hours:
Friday 9:00 am – 8:00 pm
Saturday 9:00 am – 9:00 pm
Sunday 9:00 am – 5:00 pm
Need more information about the show? Click here or contact info@gpkauctions.com
Phone 1-800-227-3868
If you're thinking of selling a home try my newest seller tool to instantly see the value of your home...click here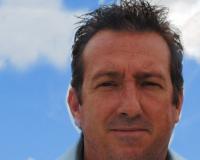 I grew up in Broward County, Florida close to Ft. Lauderdale Beach. Toward the end of my senior year of High School my family moved to Barnegat, New Jersey where I met my wife Maryellen. We have 5 kid....