No more trick-or-treating in town on Oct. 30.
The annual Toms River Halloween Parade, sponsored each year by Toms River Fire Company 1, is being permanently moved to the Saturday before Halloween. That's Oct. 26 this year.
In its 75 years, the parade has been held on Oct. 31, which almost always fell on a weekday and a school night. As a consequence, Toms River and neighboring towns, such as
Berkeley
, observed trick-or-treating on the day before Halloween so parents were not forced to choose between the parade and taking their costumed children door to door in the hunt for candy.
The parade in downtown Toms River, which organizers bill as the second-largest Halloween parade in the world, second only in size to the one in New York City's Greenwich Village, was canceled last year in the chaotic aftermath of superstorm Sandy, which devastated the Jersey Shore two days before the scheduled event.
Organizer Carl Weingroff said the move to Saturdays will attract more people.
"A lot of surrounding towns are now going to be able to participate, so they don't have to worry about trick-or-treating now," Weingroff said.
But it also will cost more money for the township, according to municipal officials.
$8,000 in police OT
Township Administrator Paul J. Shives said moving the date to a Saturday will cost taxpayers about $8,000 in police overtime this year. In previous years, when the parade was held on a weekday, the town could police the event using an overlap of regular, weekday shifts.
However, Mayor Thomas F. Kelaher has endorsed the move to a Saturday.
"The town supports the parade, and we will make sure that all of the proper safety precautions will be followed," Shives said.
Toms River Police Chief Michael G. Mastronardy agrees the change to a Saturday will make the parade a bigger affair and law enforcement will do its job to make certain everyone who wants to come has a safe, fun time.
"It will be a regional event as opposed to a local event," Mastronardy said.
The parade, which draws tens of thousands of people, results in some challenges for law enforcement. Roads in the downtown have to be closed and conflicts have even led to some assaults in previous years, but nothing police cannot handle, Mastronardy said.
"Although the parade was always on the 31st, there was often confusion, conflicts and concerns as to when parents should send their trick-or-treaters out in Toms River and neighboring towns. This will eliminate that confusion, conflicts and concerns," the police chief said.

information courtesy of app.com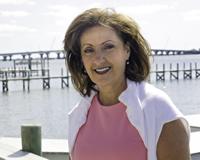 I grew up in Bergen County, New Jersey across the Hudson River from New York City. My husband, Dennis, and I raised our two children there. As soon as the kids were finished with school, Dennis and I ....