Sugarloaf Crafts Festival
October 28, 29, 30
At the Garden State Exhibit Center inSomerset,NJ
Exit 10 off I-287
Friday and Saturday 10-6 and Sunday 10-5
Admission $7 online, $9 at the Door – good for ALL THREE DAYS, WOW!
Children Under 12 and Parking is FREE!
For Over 30 Years, the Nation's Most Talented Artisans Have Personally Sold their Contemporary Crafts and Fine Art at Sugarloaf Craft Festivals. Rated as One of the Top Craft Experiences in the Country, Last Year More than 175,000 Visitors Attended Sugarloaf Craft Festivals and Enjoyed the Work of Thousands of Juried Artisans. Come Out and Meet 275 Artisans in Person! This Years Festival Will Feature Designer Crafts, Home Furnishings, Great Gifts, Specialty Foods and TONS of Family Fun!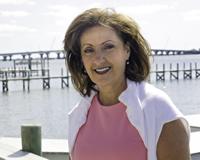 I grew up in Bergen County, New Jersey across the Hudson River from New York City. My husband, Dennis, and I raised our two children there. As soon as the kids were finished with school, Dennis and I ....