What is more important these days, Social Skills, or Social Studies? I think in the immediate, we need to teach our kids Social Skills. We have introduced our kids to texting, email and Facebook, along with many other social media outlets, but we haven't given them the skills on how to use them properly.
In light of the Connecticut school massacre I am convinced that our children need social skills and parenting and maybe not Social Studies right now. Maybe we need to teach the 9-10th graders Social Skills and the 11-12th graders Social Studies or vice versa, I'm not sure. One thing I know is I do not want to see or hear about another massacre, WE NEED TO FIX THIS and we don't have lots of time, one more life is too many to lose!
As an adult I have been fortunate to grow up with nothing like what kids have today. Growing up in Florida we had bikes, skateboards and surfboards. We rode to our friends and had fun without texting them to see what they were doing, we just went over.
Today's children don't have to go see what they're doing, they can text them (no need to go out) to see what they are doing, and then if they don't like what they're doing they don't go (get exercise).
Our society has been forced to become lazy and overweight by no fault of ours, by technology. Although I'm not sure what I would do without my IPhone, Verizon 4GLTE device that connects my IPad to the internet while on the road, I would get lost and not know which way to turn without my Google map.
Even I have fallen victim to technology and become lazy and overweight. Let's all make an effort to help our kids gain the Social Skills they need and let the teachers teach them Social Studies. Let's get off our butts and shoot hoops with them, take a ride on our bikes, and keep them off XBOX for a while and see if it makes a difference.
Let's make a difference today!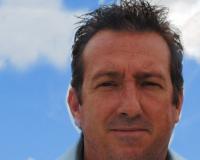 I grew up in Broward County, Florida close to Ft. Lauderdale Beach. Toward the end of my senior year of High School my family moved to Barnegat, New Jersey where I met my wife Maryellen. We have 5 kid....