Tired of Sitting in on yet ANOTHER Rainy Day this Summer?
Here's Some Good Ideas Not to Wash Your Summer Away…
Hot Sand-
Hours: Noon to 8pm Daily
Cost: $22 and up per project
Enjoy a trip to Hot Sand, a boutique and glass-blowing studio when the weather isn't a "beach day."
The Robert J. Novins Planetarium-
Hours: Show and Even Times Vary through the Summer, please call first. 732-255-0343
Cost: $10 for Adults; $8 for Seniors; $7 for Children 12 and Under and O.C.C. Students with College I.D.
Come experience everything from Space to the Sea, you will be blown away!
The Paranormal Museum-
Hours: Noon to 7pm Wednesdays-Sundays
Cost: $5 for Adults; $3 for Children
A museum dedicated to the unexplained and the mysterious, come explore these baffling myths, legends and folklore.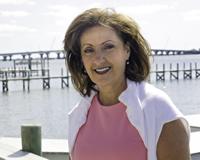 I grew up in Bergen County, New Jersey across the Hudson River from New York City. My husband, Dennis, and I raised our two children there. As soon as the kids were finished with school, Dennis and I ....