Support the Shore

"Capture the REAL Jersey Shore- a coffee table photography book that captures the beauty of the Jersey Shore prior to superstorm Sandy's devastation on October 29, 2012. Some of the iconic images captures in this book are no longer part of the Jersey Shore landscape. Own a piece of history and preserve the memories. All profits from the sales of this book will be donated to the Jersey Coast Chapter of the American Red Cross and the Jersey Shore Convention & Visitors Bureau." -app.com

Order your book online today buy.capturejerseyshore.com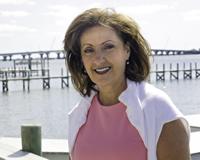 I grew up in Bergen County, New Jersey across the Hudson River from New York City. My husband, Dennis, and I raised our two children there. As soon as the kids were finished with school, Dennis and I ....