Recently I had the opportunity to speak with a well know Southern New Jersey Regional Hospital Secuirty Director. He told me some of the new threats of online security they're facing and said I should be thinking to secure my personal identity. We all love facebook, but you should be very cautious of what information others can see.
He was recently hired by a very large home building company to do a study of their network security. He found an alarming 20+ % of usernames and passwords to be USERNAME & PASSWORD, this is NOT ACCEPTABLE for anyone.
One of the newest threats are from overseas. You should never open email from any email that has an abrevieated part of their country name in it....i.e....ru (Russia), .ch (China) you get the picture. Also, you should never open an email where HELLO is in the subject line unless you know who it is from. Once you open an email, you are letting that person know that your email address is VALID and they can possibly attach some virus material to an email because you will most likely open it.
Please be careful and also make sure your children who have email address's know this information also.
Safe surfing!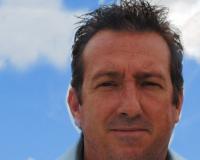 I grew up in Broward County, Florida close to Ft. Lauderdale Beach. Toward the end of my senior year of High School my family moved to Barnegat, New Jersey where I met my wife Maryellen. We have 5 kid....