If you're a racing fan or just want to do something different, I suggest you try the New Egypt Speedway. Below is the August racing calendar. I suggest you look it over and call before you go to be sure their racing. A few times this year the weather forced them to close the track.
$20-Adults, $18-Seniors/Military
$10-Students (12-15) & Children 11 and under are FREE!
Gates Open at 4:00PM
Track phone: 609-758-1900
August 4th Legends Night - Modifieds, Crate-1, Late Models,
Outlaw Stocks & GSVSCC
August 11 Beach Party Night - Modifieds, Sportsman, Late Models & TSRS Sprints
August 18 Romano Memorial - Sportsman 30-Laps, Crate-1, TSRS Sprints, Outlaw Stocks, Demolition Derby & NEETS Big Car Enduro
August 21 Jersey Rush - 410 Sprints & Big Block Modifieds
August 25 Powder Puff - Modified Twin 20's, Sportsman & Outlaw Stocks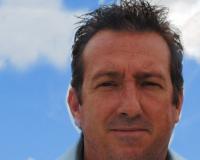 I grew up in Broward County, Florida close to Ft. Lauderdale Beach. Toward the end of my senior year of High School my family moved to Barnegat, New Jersey where I met my wife Maryellen. We have 5 kid....