Most people around the Jersey Shore look at Martin as their Hometown hero. He comes from a small town in Southern New Jersey, but Martin made it BIG. Driving for Michael Waltrip Racing, #56 NAPA Auto Parts and has been in the "chase" quite a few times and I'm hopeful he will be in it again this year. The AdvoCare 500 night race in Atlanta last week, Martin drove with a broken wrist from an accident on the track a week earlier where he was slammed into the wall. This week finishing 3rd, Martin was touted as unbelievable by one announcer for his ability to drive with a cast and through the pain he must have been feeling.
Folks in South Jersey wish Martin good luck in his attempt to make the "chase", a fast recovery from the broken wrist, and hopeful he wins this week at the Federated Auto Parts 400 at Richmond International Raceway, Richmond Va.
Who's your favorite Nascar driver?
Here is a link to pick your favorite.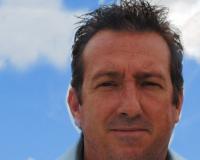 I grew up in Broward County, Florida close to Ft. Lauderdale Beach. Toward the end of my senior year of High School my family moved to Barnegat, New Jersey where I met my wife Maryellen. We have 5 kid....