"Lights Out" Concert

Come Out for a Fun Filled Evening, August 17th to The Dominic A. Potena Performing Arts Center in Margate. Lights Out Concert will feature the sounds of The Jersey Boys, Frankie Valli and the Four Seasons. Tickets Cost $15. Show Starts at 8:00pm. You Won't Want to Miss this Show!

"The South Jersey Field of Dreams is a place where physically and mentally disabled children and adults can play and participate in that Great American Pastime, baseball. The city of Absecon has generously donated a new baseball field at their Dr. Jonathan Pitney Recreation Park for this Field of Dreams. " Courtesy of southjerseyfieldofdreams.com

For more information visit southjerseyfieldofdreams.com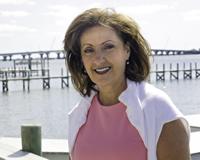 I grew up in Bergen County, New Jersey across the Hudson River from New York City. My husband, Dennis, and I raised our two children there. As soon as the kids were finished with school, Dennis and I ....