Jenkinson's Aquarium in Point Pleasant Beach Presents, "SeaofLights," an Indoor Holiday Light Spectacular!
Exhibit Dates are as Follows December 16th, 17th, 23rd, 26th & 27th from 6-8pm
Admission: $6 per person (Not included with daily admission. No coupons accepted.)
Walk through different Holiday Themed Areas While Viewing our Exhibits at Your Own Pace. Make a Craft and Bring Your Camera to Capture this Special Family Experience. Stop by the Sweet Shop afterwards to Purchase & Create Your Own "Make & Take" Treats and Ornaments!
Also Open these Nights:
Aquarium Gift Shop
Jenkinson's Sweet Shop
Pavilion Arcade & Pavilion Pizzeria
For further information please visit: www.jenkinsons.com/aquarium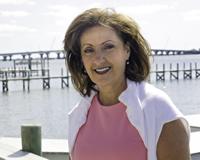 I grew up in Bergen County, New Jersey across the Hudson River from New York City. My husband, Dennis, and I raised our two children there. As soon as the kids were finished with school, Dennis and I ....