Lyrics from country singer Eric Church-Springsteen. Wow I love this song. He sings;when I think about you, I think about 17, I think about my old jeep. I think about the stars in the sky, FUNNY HOW A MELODY SOUNDS LIKE A MEMORY, like a soundtrack to a July Saturday night-Springsteen.
I know I have many songs that bring back memories to when I was 17 and I'm sure you do too, but what song will make you think about Superstorm Sandy? I know we would all like to just not remember or think about it, but the fact is; this is now a part of our history. Our kids and grandkids, and their kids and grandkids will be reading about it in history books just as we read about the storm of 1962.
Memories are something most treasure, but sometimes forget. I read a recent article on "the Illusions of memory" and realize that sometimes we can have a clear and vivid memory but be totally wrong. Even though my memory of Hurricane Sandy will be a bad one, It will be one I most likely will never forget or be wrong when retelling what happened.
Stay Strong & Rebuild!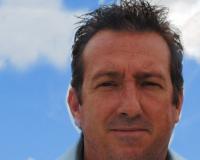 I grew up in Broward County, Florida close to Ft. Lauderdale Beach. Toward the end of my senior year of High School my family moved to Barnegat, New Jersey where I met my wife Maryellen. We have 5 kid....