Flea Markets and Local Auctions
As Summer turns to Fall, foraging becomes a popular pastime in central New Jersey. Some of the best bargains around on everything imaginable can be found at three area flea markets and auctions that are among the largest in the state and have been operating through two or three generations of family owners.
Collingwood Auction and Flea Market
The Schneider family started the Collingwood Auction and Flea Market on Routes 33 and 34 bordering Howell and Wall. Hours are from 11am to 7pm on Fridays, 9am to 7pm on Saturdays and 9am to 5pm on Sundays. The outdoor flea market opens at 7:30am.
Englishtown Auction
Englishtown Auction on Wilson Ave. off Route 527 in Manalapan, dates back to 1929, when farmers met there to buy, barter and sell livestock, farm equipment and produce. Owned and operated by the Sobechko family, it features 5 Indoor buildings and 40 acres of outdoor shopping. Open 8am to 4pm every Saturday and Sunday, year round, rain or shine.
Route 70 Auction and Flea Market
In Ocean County, the Second generation of the Reynolds Family operates the Route 70 Auction and Flea Market in Lakewood which has more than 600 tables, 30 indoor stores and multiple food stands. Hours of operation are 7am to 12pm on Fridays, 6:30am to 3pm on Saturdays and Sundays Year Round and Summer hours 7am to 12pm on Wednesdays through September 26th.
Helpful Tips for Shoppers:
-Wear comfortable Shoes
-Dress prepared for a change in weather
-Practice your negotiating skills
-Bring a pen and notebook to note tables you may want to revisit
-Replenish fluids and stay hydrated
-Remember to have Fun!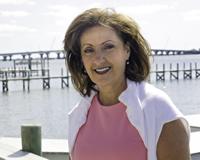 I grew up in Bergen County, New Jersey across the Hudson River from New York City. My husband, Dennis, and I raised our two children there. As soon as the kids were finished with school, Dennis and I ....