Easter is Just Weeks Away, Make Your Plans
NOW
! Wishing You and Your Family a
Happy Easter
!
2014 Southern NJ Easter Events
:
Moorestown East Egg Hunt
4/12/14- 10am-2pm, on the front lawn of the Moorestown Community House. Welcoming All Youngsters Ages 2-8.
The Great Egg Hunt- Ocean City
4/12/14 & 4/19/14, 2:30pm Beach 11th St-14th St., 5 age Groups, 100,000 Eggs.
Easter Parade in Historic Smithville- Smithville
4/19/14, dress up and stroll through the village in style. Awards given for best outfits.
Annual Easter Outfit Contest- Seaside Heights
4/20/14- Parade starts at noon. Free admission. Show off your Easter Sunday Best.
Easter Fashion Promenade- Ocean City
4/20/14- in front of Music Pier, Moorlyn Terrace & Boardwalk. Judging begins at 1pm.
Easter Fashion Stroll- Cape May
4/20/14- 1pm Takes place on the Washington Street Mall in the 300 Block.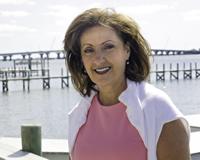 I grew up in Bergen County, New Jersey across the Hudson River from New York City. My husband, Dennis, and I raised our two children there. As soon as the kids were finished with school, Dennis and I ....