Chocolate Week is ALMOST Here!
February 9th-18th
The Southern Ocean County Chamber of Commerce is asking Members to help draw attention to their business and the region with chocolate or romantic add ons, offers or discounts happening within the week of Feb 9-18th. There is NO fee to participate.

Any Questions Please call 609-494-7211.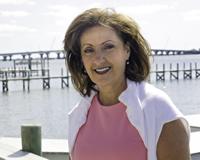 I grew up in Bergen County, New Jersey across the Hudson River from New York City. My husband, Dennis, and I raised our two children there. As soon as the kids were finished with school, Dennis and I ....