Only recently I had to find out in New Jersey, drivers are allowed to carry a minimum of $5,000 property damage insurance coverage. Now this may not sound terrible, but let me explain.
My vehicle was parked in front of my home like always. A young man was driving up the block and side swiped my car, which sent his car into a 180 accross my driveway and into a freshwater pond in my yard....WOW!
So now you know what happened, but the fun is just begining. I called my insurance company and they didn't want anything to do with it, I had no collision insurance on this vehicle, it was 2000 Nissan Pathfinder. But this accident was no fault of mine and the driver had insurance so no problem...yeah right!
I called his insurance company and reported the accident (because he didn't). 2 weeks later they finally made contact with him and were able to start processing my claim. I had the car towed to a local body shop for an estimate, it was deemed totaled (all from being parked).
We are now into the 3rd week. I have no rental car, and I'm waiting to hear from the company on my settlement. See there were two things going on; He not only totalled my vehicle, he damaged my property (remember he ended up in a freshwater pond I had built a few years back). His policy had a maximum payout of $10,000 (I'm lucky it wasn't the $5,000 NJ allows you to have), but I actually had $12,000 + in damages, so I stuck accepting less.
But WAIT! I told you I had the car towed by flat bed truck to a local body shop 4-5 miles away, it was not driveable. They deducted the towing from my check, $225, so I ended up with the balance.
So the story here is just because someone has insurance, doesn't mean you will get paid what you should. For the few extra dollars why put the next person in my spot?
Have your insurance agent check your policy!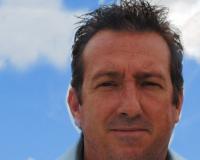 I grew up in Broward County, Florida close to Ft. Lauderdale Beach. Toward the end of my senior year of High School my family moved to Barnegat, New Jersey where I met my wife Maryellen. We have 5 kid....