Recently I read a blog post that had many great uses for Hydrogen Peroxide, but I didn't see this; If you have a blood stain on your carpet, clothing, bedding or any fabric you can use Hydrogen Peroxide to get it out. Here's how.
1. Gather paper towels and heavy object that can get a little wet (pots & pans work good)
2. Pour a small amount on stain
3. Place thick layer of paper towels on stain as its bubbling
4. Place heavy object on area and leave for 15-20 minutes while it absorbs the blood.
5. Repeat if necessary.
Of course with any stain, make a samll test area before doing the entire area. It may take numerous attempts and it still may not work, but its definately worth a try. I have been successful with this many many times, hopefully you will be too!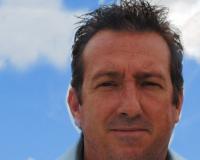 I grew up in Broward County, Florida close to Ft. Lauderdale Beach. Toward the end of my senior year of High School my family moved to Barnegat, New Jersey where I met my wife Maryellen. We have 5 kid....