Bargains by the yard can be found in historic Barnegat on Saturday, April 28 when the whole town turns out for the acclaimed Barnegat Town-Wide Yard Sale. From contemporary to Victorian, Barnegat's homes divulge their treasure in this rite of spring that attracts neighbors – and even visitors from neighboring states.
The Barnegat Chamber of Commerce sponsors the event, held rain or shine beginning at 9 a.m. All proceeds from registration will be used for the Chamber of Commerce Community Fund, which provides scholarships and donations to community causes such as police, fire, first aid and the food pantry.
Maps leading the way to registered properties can be obtained at the following locations after 7:30 a.m.on the day of the yard sale:
Tobacco Road – 690 East Bay Ave.;
Unshredded Nostalgia – 323 South Main St.;
The Van Dyk Group – 500 Barnegat Blvd;
Green Thumb Day Care and Preschool, 361 North Main St.
Deadline for registration to be included on the map is Wednesday, April 25. Mailed-in registrations must be postmarked by Friday, April 20. Registration forms can be found online at www.barnegatchamber.com. Registration fee of $10 includes advertising and a small American flag to place on your mailbox or property identifying your participation in the sale. Township permit fees will be waived for registered participants only. Others require a permit.
To register and receive your flag, bring the bottom portion of the form, along with $10 fee, to Van Dyk Group, 500 Barnegat Blvd., Barnegat, between the hours of 9 a.m.-5 p.m. Monday-Friday; or mail to Barnegat Chamber, PO Box 1112, Barnegat, NJ 08005.
If there are any questions, call Jerry Thompson, Van Dyk Group, 609-597-1988 or Ginny Melchiondo, 609-698-1618.
"Typically about 250 households register for the annual event that for them is a chance to spring clean and make some money at the same time," said Chamber President Ginny Melchiondo. "For the people who want to see what they can find, that means everything from collectibles to fishing gear to children's clothes and toys add up to the biggest yard sale anywhere around."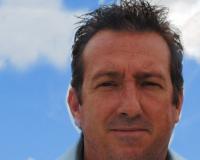 I grew up in Broward County, Florida close to Ft. Lauderdale Beach. Toward the end of my senior year of High School my family moved to Barnegat, New Jersey where I met my wife Maryellen. We have 5 kid....