52 Things Every New Jerseyan Must Do and Guess Who's #1 on the List…?
The 30th Annual Festival of Ballooning
July 27th-29th at Soldberg Airport, Readington, NJ
Balloon Rides are Available
Friday, July 27th at 6:30 pm
Saturday, July 28th at 6:30 am and 6:30 pm
Sunday, July 29th at 6:30 am and 6:30 pm
Balloon rides are $200 per person in the morning and $225 per person in the evening. You will need to purchase a general admission ticket as well in order to get on the festival grounds.
When winds are calm enough during the day, they offer tethered rides allowing you to get a small taste of ballooning. These balloons are tied to the ground with tether ropes about 100 feet in length. Tethered rides last about 5 minutes and are a good way to experience ballooning while staying close to the ground. Tethered rides cost $15 per person until noon and $20 after noon and can only be purchased on site at the event.

The Quick Chek New Jersey Festival of Ballooning invites you to be a part of our spectacular arts & crafts/vendor community. The festival continues to be one of the best marketplaces in the country!
Entertainment Schedule:
July 27th 8pm- Eddie Money
July 28th 1pm- ICONic Boyz from MTV's America's Best Dance Crew
July 28th 8pm- Smokey Robinson
July 29th 3pm- BRET MICHAELS
July 29th 1pm- R5 featuring Ross Lynch from Disney's Austin & Ally
Please Call 1-800-HOT-AIR9 for Tickets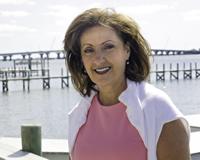 I grew up in Bergen County, New Jersey across the Hudson River from New York City. My husband, Dennis, and I raised our two children there. As soon as the kids were finished with school, Dennis and I ....